Something about me…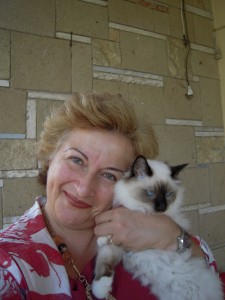 My name is Maria Letizia Giacci. I was born in Rome where I'm living with my family: Robert, my husband, Federica my daughter and my little private zoo. Dogs, cats, turtles, birds and three humans:just a nice family!
I love Classical Music, Ballet … and my sweet Birmans.
I love Nature and its animal life. I like to observe the beauty, the colors and smell the scents to catch the essence.
I love to discover the habits, the behavior, the language of different species and individual breeds because everything speaks to Man!
The Nature, charm. The Nature ,colors. The Nature, the mystery.
Just over ten years ago ', I visited a catshow and came across a lovely little furry, ball, very soft , with a deep magnetic expression, tender and mysterious at the same time. I let me win …
Later, that "little panda" with blue eyes became the founder of a large Royal Family.
This was the beginning of Olimpo's Birman Cattery

In 1996 I made a Christmas gift to myself . Orfeo, a beautiful blue birman boy came home: Foffo for us.
It was delightful: an elegant ivory coat which shows a strong bone structure
A dark gray mask that frames and enhances two beautiful sapphire eyes.
A furry rich tail as a grey plume as well as gaiters and ears.
The white feet are a real touch of class!
Sweet, gentle, affectionate, never excessive: tha's was Foffo, a true birman!
He comes into my house…and in my heart! He looks so nice in and charming so that he immediately wins everyone.
Time goes by so fast. Foffo grows up. He becomes an adult cat, a wonderful Prince!
How nice is to see him becoming dad! I find a good wife for him, a beautiful birman girl that is at his level.
So the little Princess Arlette,comes home. She is our lovely Titti, a pretty blue tortie girl. Foffo falls in love with her soon.
Then, time of engagement arrives and their first litter later. How exciting it is! Unforgettable emotion, a wonderful and exciting experience that we decide to live again.

The blue point Orfeo and the blue cream Arlette give us so many puppies in a long time. Blue point, cream point and blue tortie are the colors of their kittens.
Later,Olimpo's Cattery takes new entries in different colors from prestigious European catteries and bloodlines with excellent pedigrees.
So the breeding program extends to color seal, chocolate, lilac, red. and also variety tabby.
Today Olimpo's kittens are in all traditional solid and diluite colors of Sacred Birmans, in point, tortie and tabby varieties.

The aim of Olimpo's work is to get from its breeder cats ,kittens that well reflect the caracteristics of the race according with the specific standard; a sweet temperament, so affectionate and balanced, that is typical in the birman breed.
Our birmans live free in the house. Share time and space with us, enjoying the comfort of the sofa the scents from the kitchen, watching the funny programs on TV.
The kittens know the habits and rhythms of life. They grow up happy in a quiet familiar environment , trying their skills and understanding better and better what the mankind is like.
Our cats enjoy special equipped areas compitely fenced where they can enjoy a variety of activities or relax themselves indoor and outdoors in the green , under the warm sun.
Healt
All cats are regulary vet checked and tested. All of them are negative for FeLV / FIV and vaccinated against FeLV and common feline diseases.
Feeding
Our birmans are fed with hight quality products in wet and dry preparation. Our cats like also a houesemade menu rich of natural fresh meat, poultry, fish, milk, cheese and vegetables. Supplements of vitamins and minerals refine the diet.
Grooming
Grooming a birman is not so hard. Some brushing a week that will be increased during the changing fur time and a taking a bath regulary with specific products make the hair soft and silky and let a birman coat be in good conditions.