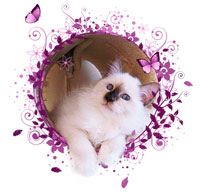 Olimpo's kittens grow up happy and lively in a quiet family enviroment cuddled and loved. They receive all cares and attentions necessary for their harmonious development. In this way they will be adult cats with a very sweet and balanced temperament that is typical of this wonderful breed.

Our kittens leave their mother at the age of 3 months after completing the vaccination course.(1st and 2nd injection)
They are given to the new owner with a Contract of Sale and transfer. The kittens have got pedigree and microchip, a veterinary certification of good helth and the vet booklet of vaccinations. If required, we will be provided for the Pet European Passport.
The kitten will be given as a "pet" or as "breed" and / or "for "show"according to the Breed Standard of our association.
A cat can be in the following qualities:
The quality "pet" means a beautiful kitten with good character but with some characteristics out of the standard so this cat can't go to a catshow. A "pet quality" cat is not allowed to reproduce.
The quality "breed" means a kitten with good but a bit out of the standard. It 's a very good cat but not perfect for the show. However, his caracteristics are good to reproduce.because he is an excellent example of this breed. Kittens for breeding are tested for bloodgroup.
The quality "show" means a perfect kitten according to the standard.and can take part to a catshow with excellent results. This cat can be used to reproduce.

Kittens are not shipped or sold via Internet in any way.
They will be sold only to those who offer the necessary correct guarantees .

For every kitten who leaves the house, a little piece of our heart goes away.
Knowing that the baby will find all the attention and love at the new homecan make this separation less suffered